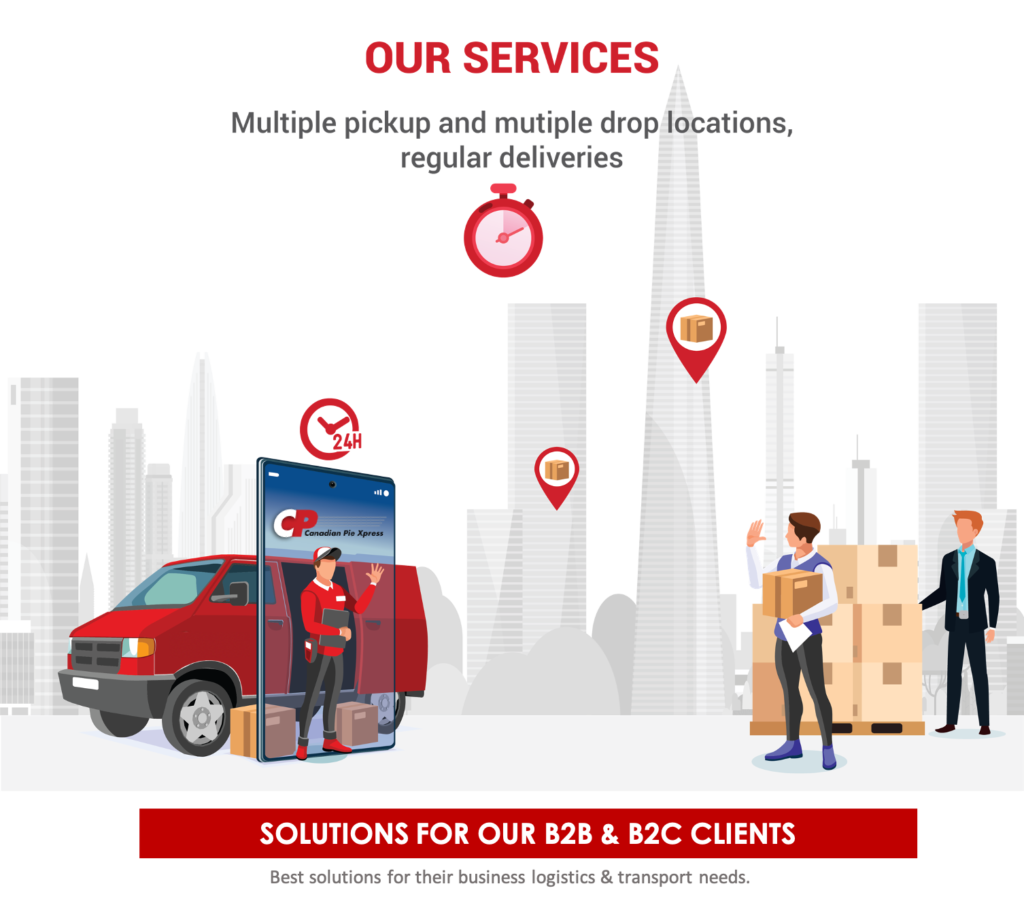 Canadian Pie Xpress is a one stop service for all your transportation and shipment needs.
Canadian Pie Xpress the rising pioneer of the industry, is there to take care of all your needs.
Each team member takes great pride in serving organizations, franchise owners, enterprises, and individuals alike.
With efficient delivery systems, smart management, and dedication to quality service, Canadian Pie Xpress continues to maintain a commendable customer satisfaction record and an ever-strong consumer base.
Serving with a smile, commitment to excellence, and innovation as our guiding values, Canadian Pie Xpress promises to take your business from strength to strength.
Our Deliveries per market
Canadian Pie Xpress is currently operating within Ontario, covering Toronto, GTA, and extended GTA. We provide custom solutions and effective pricing options for clients who are truly one of a kind.
NORTH YORK / ETOBICOKE
0
%
Customer excellence is our top priority and we always tend to improve our internal expectations from ourself. We highly encourage our clients to share their feedback for service improvement.
It's truly unbelievable that we have been working with Canadian Pie Xpress for over 8 years now and they have never
missed even a single delivery. Cakes are one of the most delicate delivery items and on time delivery is extremely important to
Our clients and Canadian Pie Xpress has delivered every single time. Manan is very easy to work with and make sure that he is
always improving his internal operations. I highly recommend Manan and his team for any of your delivery needs.
Bakery Client
Owner
We are exceptionally pleased with the service we receive from Canadian Pie Xpress. They are easy to work with and offer
great customer service. They are prompt in communicating and deliver on a timely basis. Consulting with their service team
helped us get exactly what we were looking for. We know that they are committed to serving their customers. We highly
appreciate and recommend working with them.
Dental Client
Org & Owner
Canadian Pie Xpress is a reliable, quick, and efficient service. Manan and his staff are very courteous and make every
effort to ensure that packages are picked and delivered on time.
Office works
Owner.
We at our company have used Canandian Pie Xpress for over 10 years and they truly go above and beyond to ensure our
clients get their products early and on time. We have worked with many local courier companies over our 50 years in business
and usually ofter couple years most get way too comfortable and things start to slide. Canadian Pie Xpress has truly become a
staple in our day to day delivery operations. Thanks Team.
Home Decor Client
Owner.